I'm your
Content Strategist,
Marketing Specialist &
Data-Driven Storyteller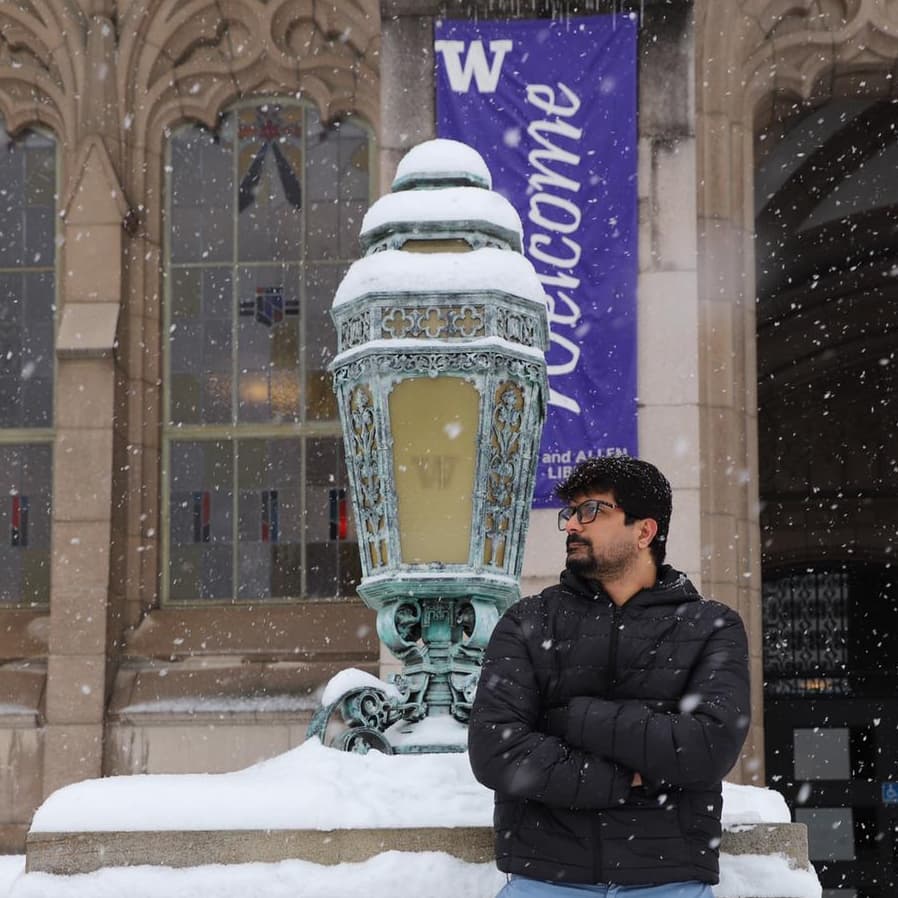 I'm a media expert and marketing strategist shuttling between Seattle and Mumbai, with experience in product development, business planning, advertising & branding.
I have written two speculative fiction novels.
Futurist, Novelist &
Data-Driven Storyteller
Cross-cultural Marketing expert with an entrepreneurial bent and a proven record of driving growth across the technology, advertising and sports ecosystem. Solutions driven storyteller with an eye for branding, business partnerships & content strategy.
I am adept at deciphering consumer journeys and optimizing every touchpoint into meaningful engagement with the user.
I'm working as the Creative Director at the University of Washington. My role involves building partnerships and driving growth across the Greater Seattle area for my MS program. I was the Head of Media for the sports wing of a 50-year-old business in Mumbai, India. In my free time, I write novels, read books from across the length & breadth of the universal library, and tinker with entrepreneurial ideas. I am pursuing the Masters of Communication Leadership in Digital Media (STEM) at the University of Washington (Seattle).

Now Reading: The Digital Crown by Ahava Leibtag
Skills

Below percentages are based on university grades & industry feedback.
Video Production & Scripting
• Lead 54 client consultations with mission-driven businesses and non-profits in the Greater Seattle area on Marketing, Business Strategy, User Research, User Interface Design and Communications Projects.
• Engaged volunteers through Digital & Event Marketing to drive growth and increase participation by 42% annually.
• Built and analysed surveys, ethnographic interviews, and comparative studies with data across 144 clients and 312 volunteers to craft the strategic direction of the consultancy.
• Lead a team of 4; driving meetings with internal and external stakeholders and mentored 4 volunteers every quarter.
• Created two new products and developed a structured work-study program to enhance student experience & skillset.
• Identified new markets, analysed consumer segments, and pitched a Customer Acquisitions program worth $32.3 million in new revenue streams to the CEO. • Analysed quantitative and qualitative user survey data and drove brainstorming sessions to create a data-driven Appreciation Program & Customer Retention Framework to grow Likelihood to Recommend by 25%. • Assisted cross-functional teams on product marketing and new media strategies for international markets.
• Built the media and content vertical and led sports-technology product development across India. • Created sub-brands and increased digital reach 4X every quarter using a mix of paid and organic BTL strategies. • Led a team of 3, synthesized an intern development program and mentored 12 interns every quarter. • Developed India's first sports-tech incubator and led partnerships with universities to create a talent, ideas & product pipeline.

• Analysed data from 35000 monthly active users to guide marketing and product strategies.
• Lead the marketing team for travel portal Ixigo's flagship FIFA World Cup campaign and achieved 40% growth.
• Attained 1 million+ organic impressions for Live.me's digital marketing campaign on multiple platforms.
• Managed key client accounts such as Live.me, MPower, FFC, etc. • Wrote copy across all media channels, from digital to OOH to Print.
digital marketing consultant
• Created a business and digital marketing plan leading to 10,000 downloads in 3 months and bootstrapped the start-up. • Wrote blogs to aid SEO and developed content strategy to drive organic growth on social media. • Developed social media marketing content, copyedited articles, and mentored a team of 8 writers.